For foreign readers:
girocard
in a nutshell
About girocard
The brand "girocard" unites the electronic payment system "electronic cash" and the "Deutsche Geldautomaten-System" (German ATM system). With more than 100 million issued cards, girocard is the most common debit card in Germany. It allows cardholders to withdraw cash at around 60,000 ATMs nationwide and to pay cashlessly at point-of-sale (POS) terminals. Unlike credit card payments, girocard payments and cash withdrawals are debited directly from your account.
Maximum security is guaranteed via secure chip and PIN procedure: all girocard transactions are processed by the secure EMV chip instead of a magnetic strip, which is vulnerable to skimming. Beyond that, the PIN ensures that only the legal owner can use the girocard. girocard is a product of the German Banking Industry Committee (GBIC) and thus uses the high security standards of the GBIC.
Apart from withdrawing cash and paying at a POS, the girocard offers many additional features.
More information:
girocard payments
When you are asked in Germany whether you want to pay by card, the cashier usually means paying with your girocard in combination with entering your PIN. To do so, insert your card into the terminal and enter your PIN when the terminal asks you to. The money will be withdrawn directly from your account.
Debit payments using the girocard system are easy to handle, as well as being safe and secure for both customer and retailer. girocard is accepted at about 1,097,000 terminals in Germany alone.
Contactless girocard payments
Contactless payments are a new type of card payment based on NFC technology (near-field communication). The technology helps to make girocard payments even faster and easier. Simply hold your card close to the card terminal and that's it. For bills up to 50 euros, you usually do not even have to enter your PIN. Paying contactlessly takes only 11 seconds on average. This was the result of a speed measurement by the renowned market research institute GfK. In the same measurement, contact-based payments and cash payments took more than twice as long on average.
Currently, contactless girocards are distributed across Germany.
The retailers' terminal will show the following logo either printed on the terminal case or in the display:
To make a payment at a participating retailer, simply bring the wave logo on your card together with the wave logo on the terminal. The terminal will beep or light up when your card has been read correctly and show a message when the payment has been successfully processed.
Usually, you do not have to enter your PIN for payments up to 50 euros. Nevertheless, as an additional safety measure, from time to time you will still be required to enter your PIN when paying 50 euros or less. Should this be the case, the terminal will display a message.

The following picture shows, for various types of payment terminals, how you should hold your card or smartphone to the terminal: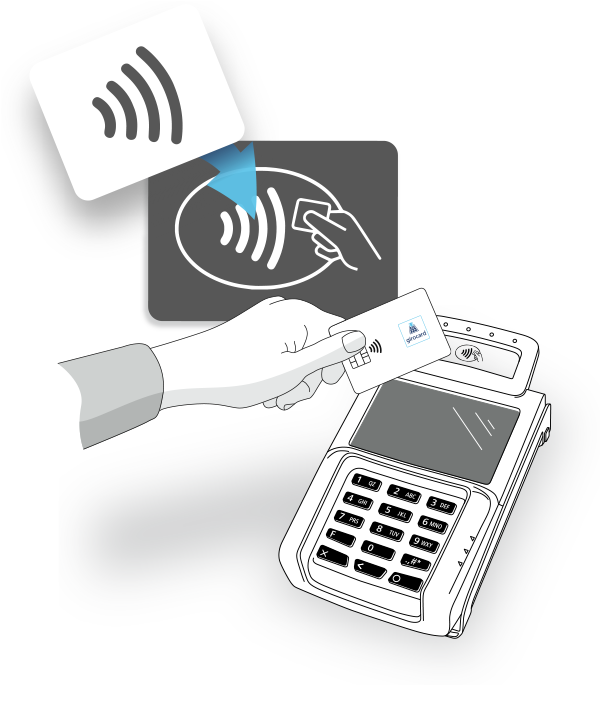 NFC technology, which makes secure contactless payment possible, is the linchpin for new applications that make your girocard even smarter and more convenient.
Just hold it close to the payment terminal and you're done.
The payment process is reduced to seconds!

Amounts up to 50 euros usually without PIN or signature.

Intuitive and much easier than expected.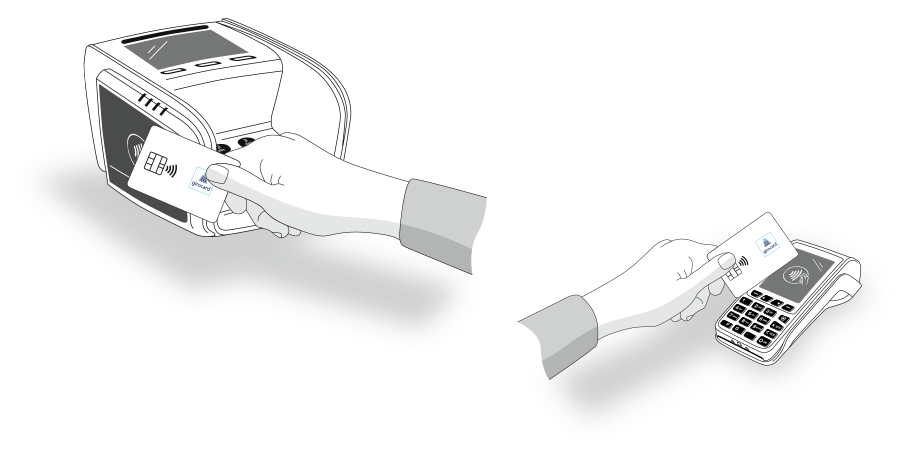 Mobile payment for everyone: the digital girocard
Most Sparkassen, Volksbanken Raiffeisenbanken and some private banks also offer their customers the option of mobile payments – contactless payment with the digital girocard in the smartphone. All Android smartphones that are NFC-enabled can be used for this purpose. In order to pay with the smartphone, the customer needs a digital girocard, as well as the corresponding app of their participating bank or savings bank.
Further information about the apps offered can be found on the websites of your bank or savings bank and in the well-known app stores.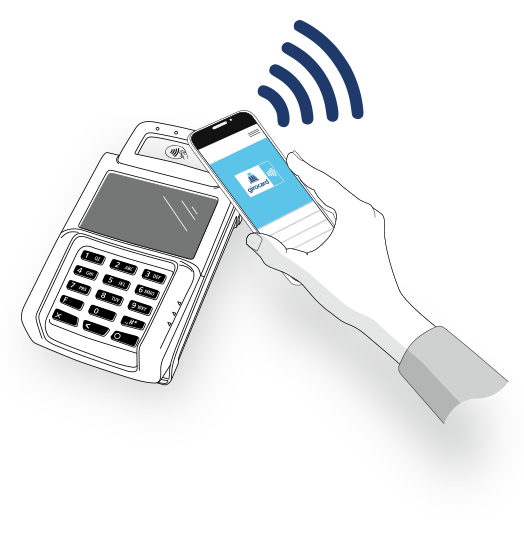 Cash withdrawals
With your girocard, you can withdraw cash from around 60,000 ATMs across Germany. Simply insert your card into the ATM card slot, select the amount you want to withdraw and enter your PIN.
More and more frequently cash withdrawals with a girocard are offered, free of charge when shopping in supermarkets, petrol stations and DIY stores. Most participating stores demand a minimum purchase value as prerequisite to use the cash withdrawals service. The minimum purchase value varies depending on the trader.
Co-branding
Most girocards are equipped with a co-brand (Maestro / VPay / JCB) to secure international acceptance. This allows girocard cardholders to pay electronically and withdraw cash in foreign countries.
Downloads for retailers
Corporate Design Guidelines download
Ergonomic Study – A recommandation from GBIC download
Terms and Conditions for Merchants - Terms and conditions for participation in the girocard scheme of the German Banking Industry Committee download
Technical Appendix to the Terms and Conditions for Participation in the German Banking Industry's girocard scheme download